The joy and challenge of painting.
Art is a lifelong journey of discovery and challenge. No matter where or what medium we paint, knowledge gained and shared by artists for centuries can help any artist become more in charge of their own painting results. Learn the skills and see how artists use them to see how they give you ways to make things work. As you paint you will start to be selective in the tools you need, and how best to use them, to paint what you want to paint.
This page has two purposes. The main area is free for anyone.
I will post some video that may be watched by anyone which may help with various queries or tasks and I will also share some video taken in demonstration.
The other purpose is a private area for students who have enrolled in my on line classes. This is password protected which changes.  To view this you must enrol. Email Lyn if you have any questions. (see contact page)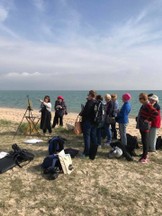 Lyn explains the list of items that an artist should bring when attending one of her workshops or painting en plein air.
------------------------------------------------------------------
Fraser Island Moonlight
A pastel demonstration of the early twilight on Fraser Island. The gentle calm of the evening is painted with a soft balance of the warm and cool colours of the fading light.